Hobart has produced high-quality kitchen equipment for over 100 years, making them a recognized name in restaurant supply across the country. Their constant innovation has led to the creation of hundreds of different products with even more applications throughout any commercial kitchen.
Cleveland is one of the only companies specializing in the design and manufacturing of steam cooking equipment. Founded in 1847, the company had only one product. Today, they have built a robust product line as part of the Welbilt family of brands.
Garland / US Range offers some of the best stovetops, ranges, charbroilers, and fryers available. Established in 1864, they have grown from a small Detroit business to an international company. Garland / US Range carries a wide selection of commercial cooking equipment to supply every type of foodservice establishment.
Delfield is an industry leader in producing high-performance food service equipment, specializing in refrigeration equipment for restaurants, hotels, and institutions since 1949. Delfield, a member of the Welbilt family of companies, is well known for its line of prefabricated chef bases.
Founded in 1938, Traulsen has grown into one of the leading manufacturers specializing in bakery fixtures and refrigerated showcases. They strive to create the longest-lasting products to bring their customers efficiency and savings.
Founded in 1944, Salvajor derived its name from the word "salvage." The company's original plan was to save flatware from being lost in sinks and trash cans. Since then, Salvajor has expanded its line of products to include hard-working, reliable machinery that continues to impress people today.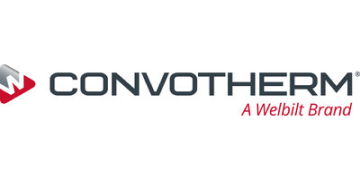 Convotherm has been designing and manufacturing combination ovens for generations under the Welbilt family of companies. They strive to produce the most durable, attractive, and functional combi ovens. Their emphasis on environmental sustainability has led them to be one of the first green companies in Germany.
Continental Refrigerator is a division of National Refrigeration and Air Conditioning Products Inc. As a major manufacturer of many different types of commercial refrigeration systems, Continental's lines include over 2000 models. Their models are listed under NSF, CE, and UL's reexamination service and made with CFC-Free refrigerants to ensure you are getting a safe, reliable product.
Since 1973, Rational has dedicated itself to customer satisfaction, product innovation, and worldwide growth. Rational was established in Germany, and now its branches are in multiple countries. From Asia to South America, their research team continues creating breakthroughs in cooking.
Top-notch quality and reliability are hallmarks of Cres Cor products. Since they were founded in 1936, Cres Cor has been providing carving stations, cook and hold ovens and cabinets, pan racks, many types of dollies, and more to help keep your business moving.
Established in 1964, Manitowoc Ice is responsible for dozens of technological leaps in ice production, including diagnostics, cleaning, maintenance, and display. They offer several product lines encompassing ice bins, ice makers, and combination ice machines with dispensers.
Frymaster is a leading manufacturer of fryer materials in the foodservice industry and operates underneath the Welbilt family of companies. Founded in 1935, they've been producing quality fryers and fryer oil filtration equipment since their first product: an open pot fryer.
Hoshizaki America, Inc. is a world leader in designing, manufacturing, and marketing a wide range of products for the foodservice industry. A few of their key products include ice machines, refrigerators, freezers, prep tables, display cases, and dispensers.
Eagle Group was founded in 1947 and has become America's largest broadline restaurant equipment manufacturer. They have hundreds of products in their catalog, each designed with the customers' needs in mind.
For over 60 years, Lakeside has produced durable, dependable utility carts to help any business run more smoothly. Lakeside is a company that prides itself on its customizable equipment and supplies and its ability to solve its customers' problems.
Founded in 1865, Vulcan is one of the world's largest restaurant equipment manufacturers. Throughout the early 1900s, the company began to grow into the business you know today, acquiring the name Vulcan and its commercial lines in 1949. Vulcan is known for its high-quality, energy efficient products.
Scotsman ice makers utilize the latest technology to provide a unit that is user-friendly and energy efficient. The self-proclaimed "company that reinvented ice," Scotsman has turned ice production into a multi-million dollar industry, servicing foodservice businesses in over 100 companies around the world. Founded in the 1950s, Scotsman has proven its dedication to innovation and customer satisfaction. The catalog of equipment ranges from simple replacement casters to large, volume-intensive ice makers that are great for high traffic businesses.
Beverage-Air was founded in 1944 with a mission to provide exceptional products, excellent service, and a competitive advantage to their customers. Since then, they've grown to become a dedicated global brand leader in every market they serve. Beverage-Air refrigeration equipment offers a full range of premium products to meet your diverse needs, including refrigerators with up to three sections, allowing you to organize your kitchen as you see fit.
Globe food equipment is one of the foremost producers of affordable, reliable commercial kitchen equipment. Their extensive catalog of products covers almost everything a kitchen could need, making them a one-stop vendor for every kind of restaurant from specialties to chains and beyond. Globe creates products like mixers and food slicers that help keep your operation thriving. Globe also makes soup warmers, mixer tables, meat choppers, and even fryers.
Cambro was founded with a mission to manufacture high-quality storage, transportation, and display products. Founded in 1951, they've since grown to become one of the foodservice industry's largest plastic manufacturers. Located in Huntington Beach, CA, Cambro provides its customers with durable, safe, and dependable products.